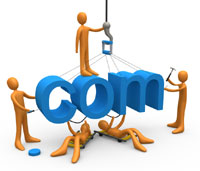 Web Design
Designing a Better Internet, One Page at a Time!
Web Design is the art of combining web graphics, web copy and web programming languages into a functional presentation for display on the world wide web. Effective web design requires many resources and a wide range of knowledge to accomplish it's soul purpose, which is to deliver information to web users. Some of these resources include graphic design, HTML scripting, interactive media design, Cascading Style Sheet definition, Web Programming, Server Setup, Site Maintenance and Search Engine optimization. All of these resources can be combined in various ways to deliver websites of all sizes, shapes and function. A simple marketing web site might us a sub set of these web technologies, where a social networking site could use an entirely different set to execute it's primary purpose.
Winning Solutions, Inc. (WSI), with offices in Ames, Iowa (The Midwest) and Fort Myers, Florida (The Southeast), employees website designers, website programmers, server administrators, search engine analysts and usability specialist to deliver web sites that not only look good, but are function driven. If your business is a small local shop, WSI can create a website design that targets your specific needs. If your business is a large, national chain, we can also provide enterprise level website creation and graphic design that will reach your market.
It's always been our belief that all website design services should be scalable so that everyone from small to large gets access to the same list of available web design services. Not only does this allow us to help the smaller business get a foot in the door on the website, but it also allows us to keep our skills sharp and precise. If you are looking for any web design services, WSI can provide them in part or in full.
Common Website Design Process Questions
Website Design Examples
If you would like to see some of the web design and web development sites we have created check out or portfolio page.